PRIDE GUIDE 2022
Take care of yourself, your friends, and others!
CELEBRATE Pride in a way that feels good to you.
No matter how you personally observe Pride, we hope you celebrate joyfully, purposefully, and safely!
At Play Out, we love ourselves and we love our community - and we're proud to be AUTHENTIC to who we are every day. Let's make a point to take care of each other out there! Scroll down for some tips!
Whether you're going to be out and about with friends, or taking in a moment to yourself, if you're going to be out all day and/or all night, here's some tips from our combined experience!
1. HYDRATE, HYDRATE, HYDRATE! We can't say this enough. Oh, by the way. Hydrate.
2. Wear sun protection! Whether this is re-applying sunscreen throughout the day, wearing long-sleeves while outside, or dancing about with a sexy sun umbrella, please take care.
3. Don't forget to EAT!Bring an apple or a granola bar with you, or make sure you treat yourself to brunch or lunch before the festivities.
4. Check Parade Routes & Street closures so you can plan to get around and meet up with your friends without added stress.
5. Check in with yourself and your friends. Happy? Hot? Feelin' it? Not feelin' it? It's OK to grab a bite, take a second to recharge, and then see if you're up for partying on or calling it a night (Day? Night? Witching Hour? Time is not real! You do you!)
If a major parade or party isn't your thing, look for smaller or niche events, or just get together with some friends to celebrate being you, and/or to learn about or reflect on the trailblazers that fought for our rights.
This article from Them is a great place to start: What Is Pride Month and the History of Pride?
If you're not familiar with the Marsha P. Johnson Institute, we encourage you to learn more here. "The Marsha P. Johnson Institute (MPJI) protects and defends the human rights of BLACK transgender people. We do this by organizing, advocating, creating an intentional community to heal, developing transformative leadership, and promoting our collective power."
Make sure that you also support the Sylvia Rivera Law Project, "The SRLP works to guarantee that all people are free to self-determine their gender identity and expression, regardless of income or race, and without facing harassment, discrimination, or violence."
There are Pride events happening throughout the year, but mostly in June (leading up to or the weekend of the anniversary of the Stonewall Inn riots.
Check out some official resource pages below, and the main parade dates for these cities:
JUNE 11-12
June 18-19
June 25-26
Mister BnB has an extensive listing of
Pride events
in many US cities.
Shop the Pride Collection
Shop Pride Looks - as a Kit, get 10% off
As a queer and trans owned brand, our mission is to lead the next generation of self-expression and fashion by applying equality to design, shopping, and gender expression. We design streetwear and underwear with inclusive sizing (XS-5X), responsibly manufacture at a woman-owned factory, and prioritize using overstock of fabrics and recycled materials whenever possible.
"The fact that y'all just categorize things as "pouch front" and "flat front" actually brought tears to my eyes, plus who doesn't want iridescent underwear?"
- Nic
"If others are experiencing the same joy I experienced while putting this outfit on, you're lighting the community on fire with happiness! It feels so good to wear clothes that celebrate my body and queerness."
"I LOVE your new lines! These are gender-neutral designs that I actually want to wear (and are affordable) and that aren't just baggy t-shirts and hoodies."
- Levi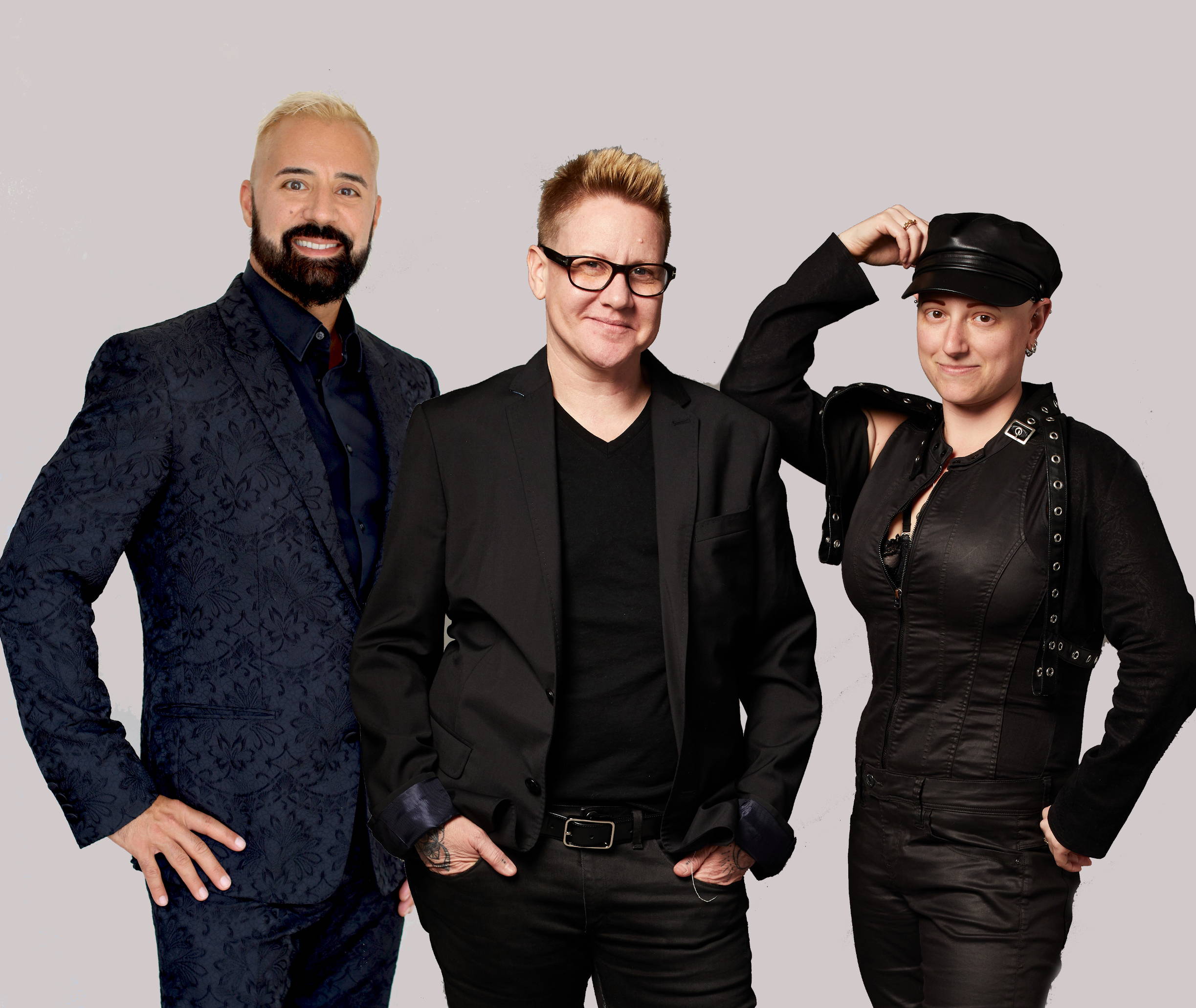 Play Out is co-founded by CEO Abby Sugar and & Chief Design Officer Grey (E) Leifer. John Lackner, COO and partner, joined Play Out in 2020.
Play Out Apparel was created because we didn't see ourselves reflected in existing brands and apparels. Specifically we couldn't find underwear and streetwear that represented us or was gender inclusive, so we designed and manufactured it for ourselves.
OUR MISSION is to positively impact queer visibility and represent queer celebration. Queer people, gender nonconforming, and transgender individuals deserve to see themselves joyously reflected in clothing and brands. And allies, of course, are welcome in our community to shop, support, engage, and enjoy Play Out's signature soft underwear and streetwear.
We are queer, lesbian, gay, trans and non-binary owned. We represent those words with care and with an openness to continue to evolve and serve our community and beyond.